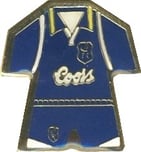 TheLeftBack
is an ode to a hobby begun in earnest during a bleak winter when I wished to combine the love of my football club with a hobby that had taken a control of me; collecting Chelsea badges. By the early 2000s I had amassed several dozen badges on my travels following Chelsea home and away until I noticed that actually some of these items were fetching considerable sums at auction - especially those produced pre-1970.

Suddenly my hobby could also become an investment and keep me out of trouble down the local where money was being spent on either beer or the fruit machine. The collection has grown to over 3,000 (weighing a fair amount too) with my favourite pieces displayed on this site. What has also grown is the amount of collectors there are out there. Chelsea badges are amongst the rarest mainly due to scarcity of anything commemorating a success. I am yet to find a "1955 League Champions" pin whilst at the same time being the proud owner of some weird ones - a 100 year old "Chelsea FC Rifle Club" member's badge dating from the 1910s anyone?
But why The Left Back? The strangest position on the pitch but one where we have excelled during the time I have been attending matched since my first game in February 1987. More in the "About" section.